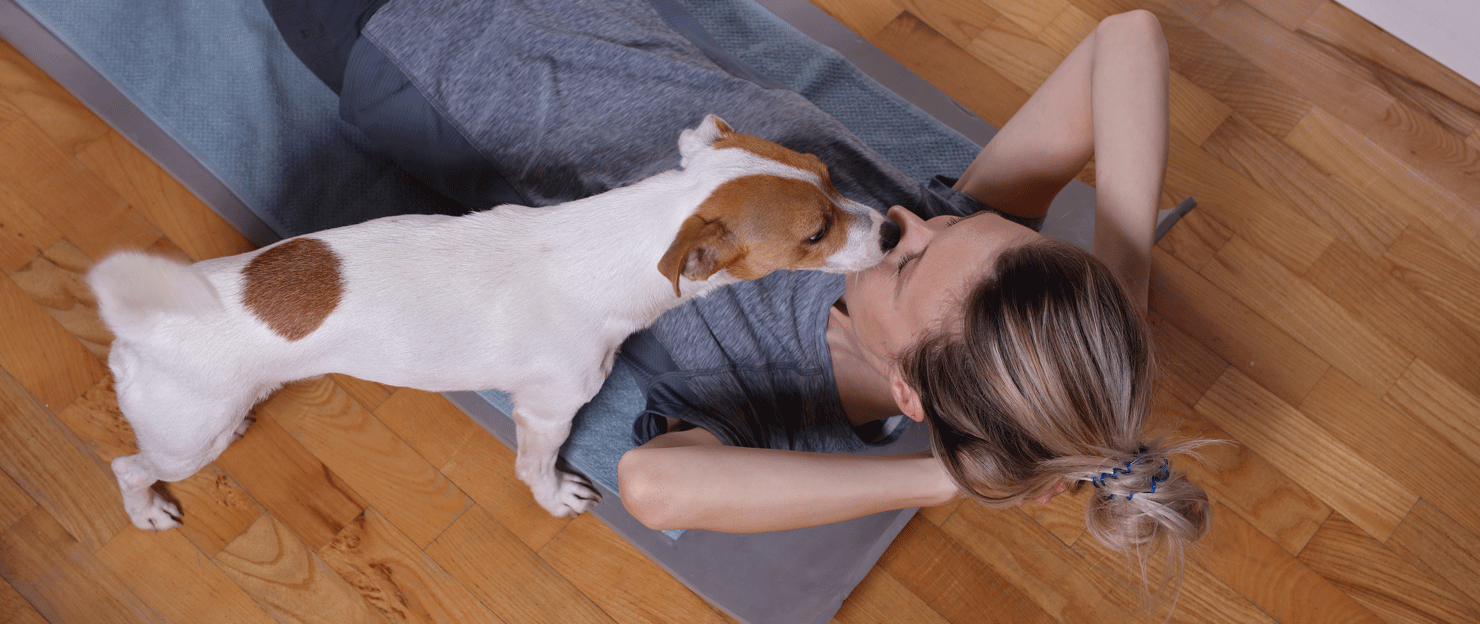 Doga is a new trend that combines your love of dogs and yoga. Now you can now bend, stretch and relax in the company of your furry friends. Doga gives your dog your undivided attention – just what they love! Some of the soothing poses displayed in Doga can be as simple as bending and stretching over your pets.
What is the Doga Challenge?
The Doga Challenge is a personal fitness and fundraising challenge supporting Guide Dogs WA and Guide Dogs Tasmania. We are challenging the community to complete 30 minutes of Yoga daily for 30 days with your dog (or any pet) from August 1st to August 30th. You decide where and when to complete your challenge whether it be in the comfort of your own home, backyard or local park.

Under the resources tab you will find links to online Doga sessions, but you are welcome to find your own online Yoga classes too. Each week registered participants will receive a free Doga class sent straight to their inbox to complete during their own time. 
Funds raised will enable us to raise & train life-changing Guide & Assistance Dogs for Western Australians and Tasmanians living with low vision, disability or illness. 100% of your donation will stay within your state to change lives in your community.
Do I have to wait until August to start fundraising?
Definitely not! You can start fundraising as soon as you register. Why not get a head start!
Can I register for the Doga Challenge if I don't have a dog?
Of course, everyone's welcome! While we promote the challenge as 30 minutes of Yoga daily for 30 days with your dog, you are more than welcome to join the Challenge, pet or no pet.
Where does the money I raise go?
Funds will go directly to the Guide Dogs WA and Guide Dogs Tasmania training programs. It takes more than two years and costs over $50,000 to raise and train a Guide or Assistance Dog. Every dollar you donate will be put towards the cost of running the training program in your state. You can trust that your generous gift will transform a life of a person living with low vision, disability or illness, in your local community.
Can I still participate if I don't live in WA or Tasmania?
Doga is currently only available to residents of WA or Tasmania.
Does it cost to register?
There's no cost to register for the Doga Challenge.
Do you have any tips for incorporating my dog into my yoga practice?
·      Let your dog's curiosity lead the way
·      Smaller dogs can be lifted during poses like "Warrior"
·      Practice stretching alongside a larger dog
·      Rest together naturally during quieter poses
Can I register in the Doga Challenge if I am under 18?
Yes, of course! We will just need your parent or guardian to complete the registration on your behalf.
What are some hints and tips for fundraising?
Head over to our resources page and look out for our emails for some great tips to help you with your fundraising.
Have we missed your question?
Contact our Doga team!
Western Australia
(08) 08 9311 8236
Tasmania
(03) 6232 1233
How does the challenge work?
STEP ONE - Register
Registering is super simple and you can do so by clicking "Sign Up" in the navigation menu to create your very own Doga Challenge fundraising page for you and your pooch. Once we receive your registration keep a watch in your inbox for Doga inspiration to keep you motivated and don't forget to like and follow our Doga Facebook and Instagram Pages to keep up to date with the latest news.
STEP TWO - Get Stretching
August 1 is when the Doga Challenge kicks off! Do your first 30 minutes. Do more if you like! There's no limit. Just get a minimum of 30 minutes in. Consistency is key!
STEP THREE - Share
Share your Doga Challenge fundraising page with friends and family so they can donate or create their own page! Check out the leader board to see who our top fundraisers are!